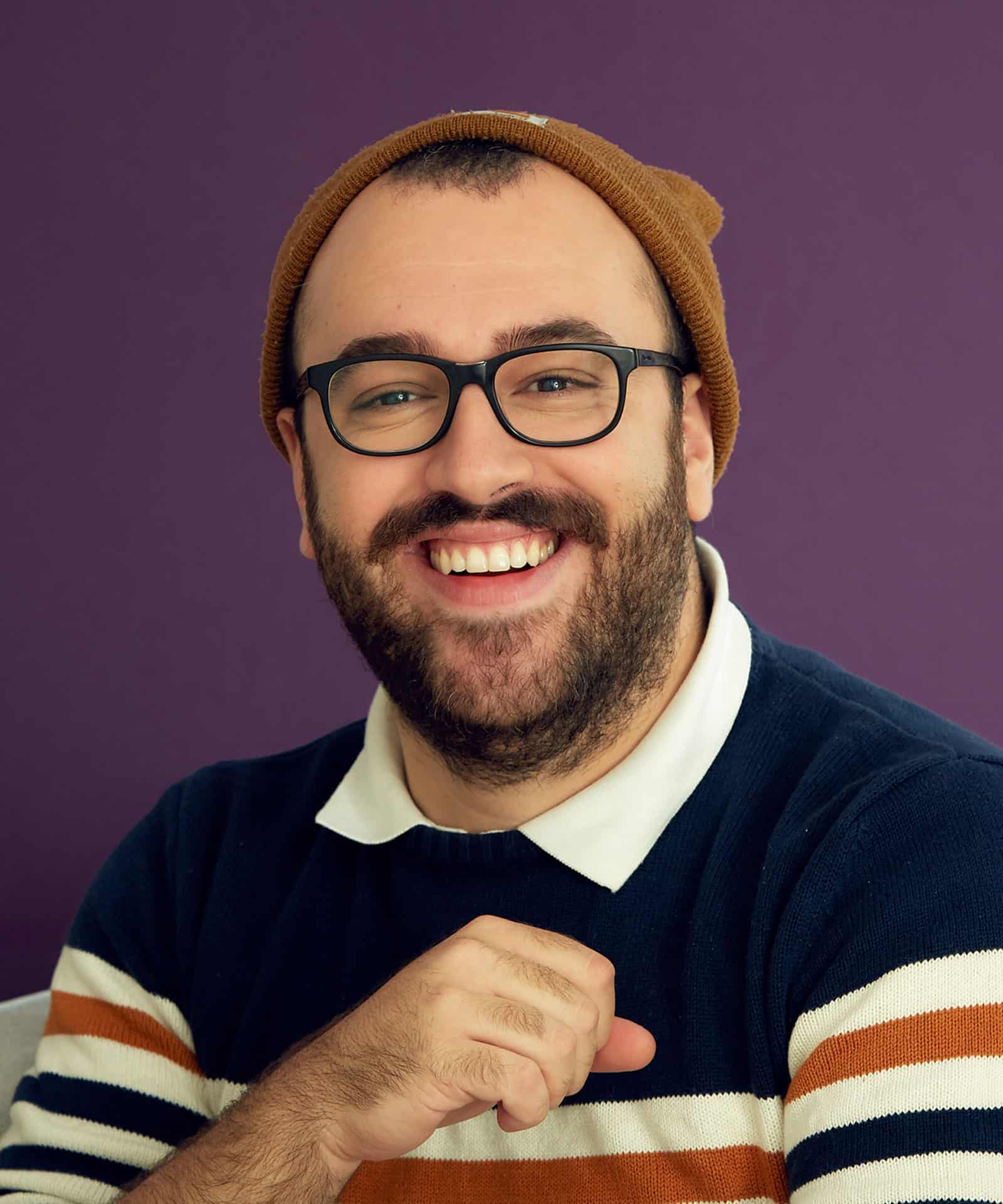 Stefan Krastev
Stefan is a classically trained artist from Sofia, Bulgaria. He is the Head of Art at Purple Lamp. We discussed how he ended up in Vienna and why he loves working at Purple Lamp.
Stefan Krastev
Stefan is a classically trained artist from Sofia, Bulgaria. He is the Head of Art at Purple Lamp. We discussed how he ended up in Vienna and why he loves working at Purple Lamp.
Who are you and where are you from?
I'm Stefan Krastev, I'm from Bulgaria, from Sofia, our capital. I have been living here in Austria for a lot of years now. I think 8 or 9 years now. 8 years in Vienna, and the first year was in Linz, which is the second biggest city in Austria.
I'm the Head of Art at Purple Lamp Studios. I have a lot of years of experience with working with game studios, movie studios, comic books and other printed media. By trade I'm a 2D artist, I'm classically trained. I've finished the Bulgarian Academy of Arts in Sofia. Very classical stuff. Painting with oils and drawing. I've moved on to Digital and Games very quickly after that.
What are your favourite games (top 3)
Oh boy…Digital we're talking then I guess. Because my favourite game is not digital. But if we're talking digital games. Top 3. That's very very difficult. I've never been asked that question before, except by my kid maybe. It's one of those questions like: "What is your favourite color". Let me think, I have so many in mind right now.
Uhm uhmmm….
Okay I'll just narrow it down to a couple of games right now. So, one of them for sure is Pokémon. Pokémon Sun and Moon is my favourite Pokémon right now. I like the old Pokémon's as well.
The funny thing is that I recently started playing them. And that's the reason why it's so fresh. I never had a Nintendo before and a couple of years ago I got a 3DS and I started playing all the old classics.
Then uuhm…what else.
Monster hunter, all of the Monster Hunter games. But World right now.
Okay let's put them in order.
Monster Hunter
Destiny
>Pokémon
It's just games I keep going back to. I mean I love Zelda and everything. But the ones I always come back to are those games.
Why do you like Monster Hunter?
<
Oh wow, good question. Now my brain just starts spiralling "Why didn't I say Gears of War". No, it's okay, those work.
I love Monster Hunter. I really like the fact that is like a Concept Artists heaven kind of thing. Forget about the monsters for a second. But the awesome weapons, huge swords to carry around. Amazing looking armour. You fight huge monsters, like every encounter is a boss encounter. There is just very little feeling of filler. It's not like: Go do this for 3 hours until you get to the boss. I mean there are some missions where you have to collect some stuff. But basically, it's just fighting Monsters with huge swords and you can't go wrong with that.
You're from Bulgaria. What is the game industry like over there?
Honestly, I'm not even sure. I have been out of Bulgaria for so long. And I've never worked in the game industry in Bulgaria. There is quite a big live gaming industry. You have some big triple A studios or branches over there. The Crytek's, Ubisoft's etc.
<
So there is a good industry in Bulgaria I think. There's also a couple of smaller studios there. There's a lot of talent when it comes to art as well. For an artist it's not a bad place to be.
How did you end up in the gaming industry?
Well at some point when I discovered digital art at the end of my high school. I found out that there's tablets and you could draw on a computer and I was just fascinated by that. Before that I thought everything was done with a mouse.
I found out people did it with designated tablets. I was like, I need this. I then got my hands on my first tablet. It was super hard to get and expensive in Bulgaria. But it happened. And the moment I started doing digital stuff I felt like I have to keep doing this
I went through all sorts of stuff, like comic books and so forth. I found out that I really liked designing, more than anything else. I didn't like illustrating so much, but more like characters and environments. I figured out I wanted to become a Concept Artist.
I first started out with movies, but I didn't like it that much. Because it wasn't really fantastical or wild. I worked on some big movies like Conan and Rambo. But you couldn't really go wild there. There's not much freedom like you have with games.
And since I was a gamer it was just a natural thing that I wanted to get into games. I just figured out I wanted to get into games. I just didn't know how or where. But when I finished the Academy of Art, I prepared a portfolio. My girlfriend at the time was going to Austria to study. I decided to apply abroad as well, also because the gaming industry wasn't so big in Bulgaria back then. I applied for a job at a studio in Linz and like literally 3 weeks later I was working in Linz on mobile games.
And from there on I moved up the ladder.
When did you come to Purple Lamp?
Soon to be 3 years ago I think. I think it was February 2018. Basically, because I have been here for a while. I worked for many companies here in Vienna and I just started making connections and getting to know people. Back then I had my own studio making VR games. But I kind of wanted to get away from that. A colleague and a friend of mine worked at Purple Lamp and he approached me.
He knew I wanted to get away from the VR scene and he asked me "Why don't you try it. We have a place here and I think you like it very much. Send me your portfolio and let's have a couple of talks with the CEO". I did that and now I'm here.
You've been in Austria for a while now. How are you enjoying living and working in Vienna?
I really love it. I came to Austria because of my girlfriend, now wife, like 9 or 10 years ago. I was one year in Linz and then moved to Vienna. I came to visit Vienna one time. And the idea was that when my wife was done with her study to move somewhere else. We just never moved. Me and my wife just fell in love with the place.
It's very difficult to not like Vienna and the gaming industry also developed in the time I was here. The longer I stayed, the more I found out about the gaming industry here. I formed relationships and just stuck around. We have also slowly formed a family and got a home and we decided we didn't want to be anywhere else.
For having a family here, working and living here I can't compare it to anywhere else. I've been lucky enough to travel around Europe quite a bit. I always compared it to Vienna and I never found a place where I would be interested enough to try it out there.
Was it easy for you to adapt to Austria?
Super easy. Mind you I don't speak the language….9 years later. I mean I can kind of go to a restaurant and order and be polite. But I don't really speak the language. Everyone speaks English here and that is also one of the reasons why it has been so easy. Everybody speaks English.
Was it like that 9 years ago as well?
Yeah it was the same. People were all just so nice and helpful. Vienna especially. You kind of have to live here to experience it. I come from Sofia right, where there are about the same amount of people as there are in Vienna. Roughly 2 million. The stress level, the day to day interactions that you have, the level of comfort and relaxation is just so nice. Vienna is a big city that feels like a small town.
Everybody is just super chill and easy going. The spirit of the place is so nice. If you walk around the city, everything is history and 300 years old. It becomes super annoying at some point when you have family over. Especially for the first time. You walk down a street and they take pictures of every building because it has some history to it. Like every building.
You have to be like. "Chill, stop it. We'll just go to the big places". It's like that, It's nice.
Do you ever miss Bulgaria?
Yeah sure. I miss family and friends of course. But I visit once or twice every year and for me that's enough to not feel homesick or really miss it. The good thing is that Austria is right in the middle of Europe. It's very easy to go anywhere in Europe because it's so close. And I have family in the UK and family in France. And we kind of travel all the time and every flight is only an hour and a half or two hours maximum.
What is it like to work at Purple Lamp?
Yeah let's hype the studio a bit. No really, I really love it. It's very nice. I don't even know where to start without sounding like a salesman. It's really friendly and you're going to hear some very sugary phrases, but they really are true. And that's why I am still here.
My character is such that, because I travel around a lot, if I don't like the place I will just move on and there is very little that keeps me staying there. That happened to me many times before, I like it that way.
But with Purple Lamp it has been different. Because I had opportunities and offers to go somewhere else. But I just like it here. The projects we work on and the people we work with. Very motivated, ambitious and very talented people. And outside of work super cool people to hang out with.
Of course, we are a big studio with 40 people. We have every character possible. The level of camaraderie and vibes within the studio is just very good. The humor is very nice, very close to my heart. The people are very humorous, so that's nice. Because I joke a lot.
You seem like a fun guy to hang around with
Haha that's just for the first 30 minutes, then I become annoying. But that speaks more for the team because they are able to tolerate me to this day. It's good. We have a diverse group and wide age range of people here. It's just really nice to be here.
There are also a lot of international people, right?
Absolutely yes. The language in the studio is English and we have people from all over. We have people from Bulgaria, Romania, French and the UK. People from everywhere basically.
Can you describe the culture at Purple Lamp?
Very chill and humorous environment. It's not corporate by any means. I'm from management and we really try to listen to everybody and want to make sure everybody feels comfortable. There is a lot of freedom and a lot of fun stuff going on.
Is it a good place for you?
For me definitely it really is. Also because of the way we are, and not only management, we're people's people and have a modern approach to our work. We understand that if you want to get good and creative results, you need people that feel well to be creative. And there are a lot of people that aren't just 9 to 5 people. We just take the attachment and ownership over what we're doing and how we're doing it.
Because processes are key. It's not just about the project, it's the process as well. The project, which is the work itself, the processes we use and communication also outside of just regular work. These 3 components are crucial. If they are not there in the right way, like pushing for creativity or pushing for a free and relaxed kind of flow. It just doesn't work that way.
We're in the creative field, we make games. And you can't force creativity so we have to nurture it. And that's what we try to do. Remove obstacles and make it that people can work at their full potential.
What do you enjoy the most about your job?
The collaborative aspect of the work. I worked as a freelancer before and I found out I really like communicating with people, like face to face. I enjoy working as a team and overcoming obstacles as a team. That's why I like the game Destiny for example.
And when you have a good team and everything clicks, it's just a beautiful thing. Especially when you have a proud moment, like releasing a game or something. Whenever I have done something solo, of course I felt pride and a sense of accomplishment. It's just different when you experience it with a team.
What achievement(s) are you the proudest of in your career up until now?
That is not a good question for an artist. Nothing haha, when I look back I feel like everything is shit haha. I don't know. I guess a couple of released titles that I poured my heart and soul in. They weren't necessarily all successful. Funny enough the projects I enjoyed most working on were the least financially successful.
But my biggest achievement and what I'm the proudest of is I think our latest project that we released. And I'm not saying that because it was our latest project. It really was a big achievement for us and it felt really personal to me. Because I've been here at the studio since day one basically.
And to see the IP SpongeBob grow and evolve has been amazing. The way that it was handled and released, everything on time. The final product makes me really proud. But knowing the processes that we had to go through to achieve it and that we didn't stumble in a major way. It is definitely the proudest moment of my life.
What is typical for Vienna that surprised you or that you had to get used to?
A couple of things. The first is the fascination with Christmas. Austrians, as I explained and especially the Viennese are super chill and they grab their moment when there is the opportunity to have a glass of wine or be outside doing something like sitting in the park. When you go to the park, it doesn't matter what time or day, it's just always full of people.
They really enjoy life in a way that I wasn't really used to coming from Bulgaria. I'll give an example. With Christmas they have the Weihnachtsmarkts and it could be like minus 10 outside, the moment the market stands with Glühwein and Punch open it's like a people's magnet. Everybody just comes out and there is a crowd of people.
And in Vienna there is always something happening. Every weekend there will be something in the parks, like a small concert or show. Or some skaters performing a routine. There is always something going on.
Do you have any advice for anyone moving to Austria/Vienna?
Prepare to give a lot of tours for friends and family visiting. This is the one pain of my existence here in Vienna. Relatives and friends visiting and having to give them all the Vienna Tour. It's beautiful and amazing, but after the third time you just want to do something else haha.
It's super easy to come to Austria. Of course, it depends where you are from, but when you are from the European Union it's extremely easy to come here. It's a really friendly and enjoyable city.
There's one thing though. There's one place where they don't really speak English, but you really want them to be able to speak English and that is the institutions. But I never had really had any problems. If the person there doesn't speak English they will find someone that does and is able to translate. Our studio and colleagues support new employee's, so they won't have that problem.
Your favourite restaurant in Vienna?
There's two. One is a burger place and I had the most amazing burger there. It's called Rinderwahn. And my second favourite is Shoyu, which is a Japanese Ramen place.
Favourite places to go for a drink?
A couple of places near the Donau. They are actually not too far from each other. One is like a boat on the canal and the other one a couple of hundred meters away. It's in the top one of the really tall towers where you have an amazing view of Vienna.
Thank you for this fun interview Stefan!
Thank you and you're very welcome!